Lasers, fire bars, spikes... just another commute, then.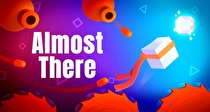 The eShop's international flavour is about to be enhanced.
The Quantum Astrophysicists Guild, best known for their puzzle game Tumblestone, have announced that they will begin publishing titles from other developers. Their first game under this new initiative is Almost There, a simplisticly-designed platformer from Bangladesh-based developer Bony Yousuf; Almost There is the first title from a Bangladeshi developer on Switch.
Almost There involving navigating a character through more than 150 platforming levels, dodging everything in the environment as it tries to kill you. It will release on Switch February 21 for US$9.99/C$11.49.