You'll probably fare better in the NES Open than Team USA did in the Ryder Cup.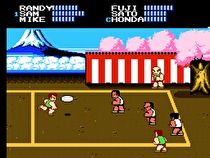 October 10 is the first day that the NES Online lineup will expand.
Nintendo of America has confirmed via a Twitter message that the October slate of games - NES Open Tournament Golf, Super Dodgeball, and Solomon's Key - will be available next Wednesday. No specific time was announced, though the company's Japanese language Twitter account is stating the same date.
The #NES fun doesn't have to stop! More NES games are coming to #NintendoSwitch. NES Open Tournament Golf, Solomon's Key, and Super Dodge Ball will be available with a #NintendoSwitchOnline membership. Subscribe now and start playing on 10/10! https://t.co/ZPh215YNeT pic.twitter.com/UdxOf7TGnM

— Nintendo of America (@NintendoAmerica) October 3, 2018