Final Fantasy is making up for lost time on Nintendo consoles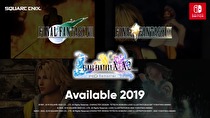 Nintendo announced that Final Fantasy is coming to the Nintendo Switch in many ways
Final Fantasy XV: Pocket Edition HD is out now. This is a port of the mobile game.
Final Fantasy Crystal Chronicles Remaster is coming in 2019. This is a remaster of the GameCube title and includes new areas and online multiplayer.
World of Final Fantasy is coming November 6. New feature called avatar change has been added, which allows you change your character to another character from the series.
Chocobo Mystery Dundeon: Everybody! is coming this winter
Final Fantasy XII: The Zodiac Age is coming in 2019. Remaster comes with a speed mode that allows you to fast forward the adventure
Final Fantasy 7, 9, 10 and 10-2 HD are coming in 2019