Switch passes the Wii U this week. Onto the 3DS.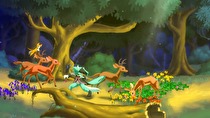 We fell three short last week, but North America's Switch is going to shoot past the Wii U's release count this week, and is now within probably a couple of months of passing the 3DS. We'll probably be talking about passing the Wii and DS by the end of the fiscal year at this rate. The big ones - aside from Steph Curry's Shut Up And Shoot Threes 2019 - are Wasteland 2 compressing onto the Switch, alongside Dust: An Elysian Tail.
Other things to watch this week: In honor of an old friend I'll finally grab Bastion, there's a medical malpractice coming with Surgeon Simulator (CPR edition) and Zach's three weeks of joy finish off with Senran Kagura Reflexions. The Archives opening bid this week is Aggressors of Dark Kombat, developed by a company called ADK. Yes, backronyms suck. Joining it is Rygar, the Tecmo classic that plays a bit differently in its arcade rendition.
In Japan it's Code: Realize, with Undertale releasing first there on Saturday (Friday Western time). And man, is it weird seeing 8-4 assigned to their PR outside Japan.
UPDATE HISTORY: One for NA, two for Europe and Japan - 10:25pm ET Wednesday
North America
Switch Retail
NBA 2K19 (US$59.99/C$79.99: Tuesday)
Switch eShop
Cities Skylines ($39.99/$50.39)
Wasteland 2: Director's Cut ($29.99/$39.99)
Final Fantasy XV Pocket Edition ($29.99/$39.99: 40% launch sale)
The Warlock of Firetop Mountain: Goblin Scourge Edition ($29.99/$35.99)
Super Dungeon Tactics ($19.99/$25.19)
Dust: An Elysian Tail ($14.99/$18.99: Monday)
Nefarious ($14.99/$18.99) Delayed last minute to October
Defunct ($14.99/$18.89)
Broken Age ($14.99/$18.89)
Bastion ($14.99/$17.49)
Old School Musical ($12.99/$16.99)
The Spectrum Retreat ($12.99/$16.37)
Time Carnage ($12.99/$15.99: Wednesday)
Surgeon Simulator CPR ($12.99/$14.99)
Stay ($11.99/$13.49)
Senran Kagura Reflexions ($9.99/$12.99)
Shadow Fight 2 ($9.99/$12.59)
Grandpa and the Zombies ($8.99/$11.33: Wednesday)
Doughlings: Arcade ($6.99/$8.99)
Spider Solitaire F ($5.00/$6.59)
The Mahjong Huntress ($4.99/$5.99)
Danger Mouse: The Danger Games ($4.99/$5.99)
Switch Archives
Aggressors of Dark Kombat ($7.99/$9.87)
Rygar ($7.99/$9.87)
Sales and Price Drops
Highlights: A selection of Arcade Archives titles are on sale until the 19th. Spreadsheet
Europe
Switch Retail
NBA 2K19 (€69.99/£59.99: Tuesday)
Switch eShop
Cities Skylines (€39.99/£35.99)
Final Fantasy XV Pocket Edition (€29.99/£25/00: 40% launch discount)
Wasteland 2: Director's Cut (€25.99/£23.99)
The Warlock of Firetop Mountain: Goblin Scourge Edition (€24.99/£19.99)
Super Dungeon Tactics (€16.96/£15.19)
Nefarious (€14.99/£13.49)
Defunct (€14.99/£13.49)
Shadow Fight 2 (€14.99/£13.49)
Broken Age (€14.99/£11.49)
Dust: An Elysian Tail (€12.99/£11.69: Monday)
Old School Musical (€12.99/£11.69)
The Spectrum Retreat (€12.99/£9.99)
Time Carnage (€12.99/£9.99: Wednesday)
Bastion (€12.49/£10.99)
Stay (€11.99/£9.29: Wednesday)
Surgeon Simulator CPR (€10.99/£9.99)
Senran Kagura Reflexions (€9.99/£8.99)
Grandpa and the Zombies (€7.99/£7.19: Wednesday)
Doughlings: Arcade (€6.99/£6.29)
Spider Solitaire F (€5.00/£4.59)
Danger Mouse: The Danger Games (€4.99/£4.49)
Switch Archives
Aggressors of Dark Kombat (€6.99/£6.29)
Rygar (€6.99/£6.29)
Japan
NBA 2K19 (¥7580)
Code: Realize ~Saikou no Hanataba~ (¥7344)
Cities Skylines (¥5184)
Final Fantasy XV Pocket Edition (¥2980)
Rento Fortune Monolit (¥1980)
Undertale (¥1620)
Shadow Fight 2 (¥1500)
Suicide Guy (¥999)
Aggressors of Dark Kombat (¥823)
Rygar (¥823)
Osyaberi!Kakejyo!~Ubawareta Dot Coin o oe!~ (¥600)
Werewolf Pinball (¥300)