Bucket buddies, unite!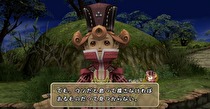 The game that marked Square Enix's return to Nintendo consoles is coming back next year.
Final Fantasy Crystal Chronicles Remastered will release on Switch in 2019, to celebrate the 15th anniversary of the game's Western release. According to a report from Kotaku, online multiplayer will be included this time, with worldwide connectivity.
FINAL FANTASY CRYSTAL CHRONICLES Remastered Edition is more beautiful than ever and coming to #NintendoSwitch and #PlayStation 4 in 2019! pic.twitter.com/hwfldVLYRO

— Final Fantasy (@FinalFantasy) September 10, 2018