Prepare to rumble online.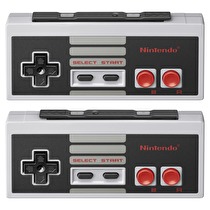 Nintendo has revealed new games and a new control method for the NES games on Nintendo Switch Online.
In the Nintendo Direct presentation showing off Nintendo Switch Online, Gradius, Double Dragon, and Mighty Bomb Jack were among the 3rd party games shown for the service. NES Open Tournament Golf and NES Pro Wrestling were shown as first party games. It was not revealed whether the games would come at launch, as some of them were shown as unlocking.
Alongside the release of the online service will come with NES-themed Joy-Cons. The Joy-Cons will open for preorder on Tuesday for US$59.99.
UPDATE: Nintendo's online page has confirmed the first 20 games for the NES: Soccer, Super Mario Bros., The Legend of Zelda, Ghosts 'n Goblins, Excitebike, Tennis, Balloon Fight, Super Mario Bros. 3, Tecmo Bowl, Yoshi, Donkey Kong, Ice Climber, Double Dragon, Gradius, Ice Hockey, Mario Bros., Dr. Mario, River City Ransom, Pro Wrestling and Baseball. New games will be added at least three per month: Solomon's Key, NES Open Golf and Super Dodgeball in October, Metroid, Mighty Bomb Jack and Twinbee in November, Wario's Woods, Ninja Gaiden and Adventure of Lolo in December.
Additionally, purchasing the NES Joy-Cons will require a paid membership to Nintendo Switch Online, as one of the special offers. Exclusive gear for Splatoon 2 will be given to anyone who purchases a 1yr membership, starting in early October.