Neal rolled up his sleeves and tried to elucidate why some of these NES games rule.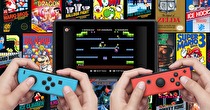 Now that we have NES games playable on Switch (as long as you're a card-carrying Nintendo Switch Online member), it might be a challenge to sift through the current landscape of 23 unique games that will keep on growing through the months. So here's a living ranked list of the available NES games that we will keep updating as new games are added.
If you disagree with this list, I'm easily impressionable if you make a solid case. But also keep in mind: this is my list, so expect Ninja Gaiden and Wario's Woods to be way higher than you'd expect when they launch in December.
Super Mario Bros. 3 - The short, focused levels across expansive varied worlds make this the current champion of the NES games on Switch. This is platforming excellence and there's a dang raccoon suit to boot.
The Legend of Zelda - Made more interesting by the special save file version that gives players all the items and powers from the start, the first Zelda is a stone-cold classic that might be a little obtuse to newcomers but is in general a magical, masterful game.
Super Mario Bros. - Even as 2D platformers have been iterated on almost endlessly, this foundational game is still awesome, from the first goomba to the final Bowser fight.
River City Ransom - This beat-'em-up is middle of the road in its punching and kicking, but it's neat because it has light RPG elements and a weirdly expansive world.
Tecmo Bowl - While the rosters don't have the late '80s firepower of Bo Jackson and Jerry Rice, the spirit is still there. With rad music and simple gameplay, this football game holds up well, all things considered.
Dr. Mario - With a title track that might be a ripoff of a Beatles song, Dr. Mario is a dependable puzzle game.
Balloon Fight - Yea, it's just basically Joust with a different aesthetic, but Balloon Fight has a lot of charm and depth. Balloon Trip is a great endless mode and the one and two-player options for the main fighting rounds are fun, too.
Gradius - A good version of a classic shooter. Also notable for being the origin of the Konami Code, so use it here if you can remember that up up down down left right left right B A start action.
Ice Hockey - Did you know you can play Ice Hockey online with a friend? Go find a buddy and pick out your preferred mix of fat guy, medium guy, and skinny guy and hit the rink.
NES Open Tournament Golf - Colorful art and animation make this primitive golf game worth revisiting, especially since Donkey Kong is like an accountant or something.
Solomon's Key - Crazy hard but at the very least a novel puzzle platformer, Solomon's Key is interesting to play. At least save states make it easier to get through now.
Super Dodge Ball - Fond memories of Super Dodge Ball went away as I recalled how poorly this game runs on NES. It still has a good soundtrack and some charm, but this game aged more than I remembered.
Excitebike - A member of the "Hamster released a better version on Switch" club, Excitebike on NES is still cool, but if you want to go further, check out the Arcade Archives release. Though really, the Famicom Disk System (out on Wii U of all places) is the best. The NES version does have the Track Editor that the arcade version understandably lacks.
Ice Climber - It's easy to bag on Ice Climber, but as a curio it's worth checking out. It's basically Nintendo experimenting with vertical platforming contrary to Mario's horizontal.
Donkey Kong - Another member of the "Hamster released a better version on Switch" club. It's totally fine, but the Arcade Archives version is far superior.
Double Dragon - Bafflingly, this is only a single-player beat-'em-up. Aside from that, it's a fun little romp.
Pro Wrestling - I'm thrilled Pro Wrestling is playable again, but this is a bad wrestling game. It has two-player though!
Baseball - I have fond memories of Baseball from my youth, but like Pro Wrestling, this is a bad baseball game. It has two-player though!
Soccer - I never played Soccer before Switch, but like Pro Wrestling and Baseball, this is a bad soccer game. It has two-player though!
Ghosts 'n Goblins - Why does this game keep getting re-released? (Editor's Note: Because beating it makes you a man!)
Mario Bros. - The arcade version of Mario Bros. is already available on Switch under the Arcade Archives label. Especially compared to the arcade version, this NES version is bad.
Yoshi - Maybe the worst puzzle game Nintendo ever made?
Tennis - A bad tennis game made worse by the fact there is no player vs. player possibility.