Originally posted before we find out Nintendo's quarterly numbers.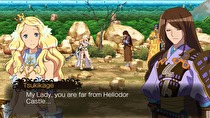 The release list for the week got a sudden jolt of electricity around the middle of last week, so look for a lot of updates. The big games this week are in the download space, with noted "DarkSoulsOf" Salt and Sanctuary and exploration platformer Iconoclasts headlining the week in the download space. Code of Princess has escaped the 3DS as well, for those who prefer 38DDs on larger portable screens. Not that I'm thinking of anyone in particular, Zach. Speaking of the 3DS, WarioWare Gold is out this week for North America and we have a review for that from Daan.
The Summer of Devolver is kicking into high gear with Not a Hero: Super Snazzy Edition, and we have Minit confirmed for next week. A new Picross for Switch awaits those who resisted the siren call of, or already beat, the Sanrio Picross from a couple of weeks ago, and an interesting adventure game centered around the Iranian Revolution of 1979 is also up this week. The Archives claim Prehistoric Isle 2, speaking of Zach appeal, and (probably though it's already been delayed once) Shoot Out.
The foreign attention this week lands on Japan, which has the return of Family Stadium as well as the newest effort from the makers of noted worst video game I've ever played Final Fantasy II.
UPDATE HISTORY: Pixel Action Heroes added Monday, 10:40pm ET
Ayakashi Koi Gikyoku -Forbidden Romance with Mysterious Spirit added Tuesday, 10:25pm ET
Yoku's Island Express, Green, Catch 'Em! Goldfish Scooping added Friday, 8:30am ET.
North America
Switch Retail
Titan Quest (US$39.99/C$50.39: Tuesday)
Code of Princess EX ($39.99/$49.99: Tuesday)
3DS Retail
WarioWare Gold ($39.99/$49.99: Friday)
Switch eShop
Ayakashi Koi Gikyoku -Forbidden Romance with Mysterious Spirit- ($24.99/$31.49)
Iconoclasts ($19.99/$24.99)
Salt and Sanctuary ($17.99/$19.99)
Kensho ($14.99/$19.99)
Road to Ballhalla ($14.99/$19.89)
The Inner World: The Last Wind Monk ($14.99/$?: Friday)
Not a Hero: Super Snazzy Edition ($12.99/$16.37)
Guns, Gore, and Cannoli 2 ($12.99/$16.00)
1979 Revolution: Black Friday ($11.99/$15.11)
The Inner World ($11.99/$14.99: Friday)
Flat Heroes ($9.99/$12.59)
Picross S2 ($8.99/$11.33)
Crush Your Enemies ($8.00/$10.08)
State of Anarchy: Master of Mayhem ($7.99/$10.07: Wednesday)
Cycle 28 ($6.99/$8.81)
Eekeemo: Splinters of the Dark Shard ($4.99/$6.20)
Pixel Action Heroes ($4.99/$5.99: Monday)
WIi U eShop
Forest Escape ($0.70/$0.89)
Switch Archives
Johnny Turbo's Arcade: Shot Out ($7.99/$10.48)
Prehistoric Isle 2 ($7.99/$9.87)
Demos and Trials
Yoku's Island Express
Sales and Price Drops
Highlights: The Escapists 2 is among a host of games on sale until August 9. Spreadsheet
Europe
Switch Retail
Titan Quest (€39.99/£35.99: Tuesday)
Code of Princess EX (€39.99/£35.99: Tuesday)
My Riding Stables: Life With Horses (€29.99/£26.99)
Switch eShop
Ayakashi Koi Gikyoku -Forbidden Romance with Mysterious Spirit- (€24.99/£22.49)
Iconoclasts (€19.99/£17.99)
Kensho (€14.99/£14.99)
Salt and Sanctuary (€14.99/£13.59: Wednesday)
Road to Ballhalla (€14.99/£13.49)
The Inner World: The Last Wind Monk (€14.99/£11.99: Friday)
Guns, Gore, and Cannoli 2 (€12.99/£11.69)
Not a Hero: Super Snazzy Edition (€11.99/£10.79)
1979 Revolution: Black Friday (€11.99/£10.79)
The Inner World (€11.99/£9.99: Friday)
Flat Heroes (€9.99/£8.99)
Picross S2 (€8.99/£8.09)
Battle Supremacy (€8.49/£7.69)
State of Anarchy: Master of Mayhem (€7.99/£7.19: Wednesday)
Crush Your Enemies (€7.99/£7.19)
Catch 'Em! Goldfish Scooping (€6.99/£6.29)
Cycle 28 (€5.59/£4.99)
Eekeemo: Splinters of the Dark Shard (€4.99/£4.99)
Pixel Action Heroes (€4.99/£4.49: Friday)
Green (€2.99/£2.69)
Wii U eShop
Forest Escape (€1.09/£0.99)
3DS eShop
Breakout Defense (€7.00/£6.00)
Big Bass Arcade: No Limit (€4.99/£4.49)
Switch Archives
Prehistoric Isle 2 (€6.99/£6.29)
Demos and Trials
Flat Heroes
Yoku's Island Express
Japan
Pro Yakyuu Famista Evolution (¥6588)
Lego: The Incredibles (¥6458)
Saga: Scarlet Grace (¥6264)
Code of Princess EX (¥3996)
Vinculum Hearts (¥2980)
Iconoclasts (¥2160)
Salt and Sanctuary (¥1780)
Guns, Gore, and Cannoli 2 (¥1280)
Flat Heroes (¥1200)
Battle Supremacy (¥1100)
Picross S2 (¥900)
Prehistoric Isle 2 (¥823)
Library SW 100 Masterpiece Collection (¥800)
Atsumare! Kingyo Sukui (¥800)