For the record: Mega Man X collection 1 is on the card, so it's the retail release.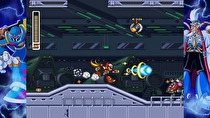 Welcome to the first week of the new, earlier posting weekly release list. Remember when we used to get the PR on Monday? Anyway, your big guns of the week are the conclusion to the Banner Saga, uh, saga - originally tabbed for Tuesday, but delayed slightly to Thursday - Go Vacation, a late Wii game that is highly popular at our European offices, and of course the first Mega Man X Legacy Collection. I for one await the opportunity to Hadoken the night away (and maybe actually beat a boss in MMXs 2-3 for once. TO THE NINTENDO POWERS!).
In smaller news, Devolver is coming through with Crossing Souls as they say they have a dozen releases still to come this year, and in other rescue news Toby: The Secret Mine is coming from Wii U. The Archives games of the week are The King of Fighters '97, completing a run of seven straight years that SNK's team brawls are on the Switch, and UPL's Omega Fighter duology in one package.
Europe is slightly late with Pool Panic but should probably get on that. It looks to be a pricey week for Japan, as the retail releases appear to outnumber the downloads including two visual novels, Disgaea 1 Complete, and Wolfenstein II.
UPDATE HISTORY: Zaccaria Pinball added - 10:05pm ET Monday
Bud Spencer & Terence Hill, RTO 3 added: 11:10pm ET Tuesday.
Omega Fighter added: 10:50pm ET Wednesday.
Dawn of the Breakers, Flat Heroes demo added: 10:30pm Thursday
North America
Switch Retail
Go Vacation (US$49.99/C$64.99: Friday)
Hello Neighbor ($39.99/$50.39: Friday)
Mega Man X Legacy Collection ($19.99/$29.99: Tuesday)
Switch eShop
Banner Saga 3 ($24.99/$31.49)
Mega Man X Legacy Collection 2 ($19.99/$29.99: Tuesday)
Bud Spencer & Terence Hill - Slaps And Beans ($19.99/$25.19: Tuesday)
Candle: The Power of the Flame ($14.99/$20.40)
Sleep Tight ($14.99/$18.89)
Crossing Souls ($14.99/$16.99)
Life Goes On ($12.99/$17.00: Monday)
Toby: The Secret Mine ($11.99/$14.99: Tuesday)
Element ($11.99/$13.99: Friday)
Semblance ($9.99/$12.89: Tuesday)
Piczle Lines DX: 500 More Puzzles ($9.99/$12.59)
Final Light: The Prison ($6.99/$: Friday)
Zaccaria Pinball (free to play: Monday)
Paladins: Champions of the Realm (free version: Wednesday)
Dawn of the Breakers (free to play)
New 3DS eShop
RTO 3 ($9.99/$11.99)
Switch Archives
The King of Fighters '97 ($7.99/$9.87)
Omega Fighter ($7.99/$9.87)
Demos and Trials
Flat Heroes
Sales and Price Drops
Highlights: Yono and the Celestial Elephants is on sale until Thursday, Regalia: Of Men and Monarchs is on sale until next Monday. Spreadsheet
Europe
Switch Retail
Go Vacation (€49.99/£39.99: Friday)
Hello Neighbor (€39.99/£34.99: Friday)
Mega Man X Legacy Collection (€19.99/£15.99: Tuesday)
3DS Retail
WarioWare Gold (€39.99/£34.99: Friday)
Switch eShop
Banner Saga 3 (€24.99/£22.49)
Bud Spencer & Terence Hill - Slaps And Beans (€20.00/£17.99: Tuesday)
Mega Man X Legacy Collection 2 (€19.99/£15.99: Tuesday)
Candle: The Power of the Flame (€19.99/£14.99)
Crossing Souls (€14.99/£13.49)
Pool Panic (€12.19/£10.99)
Semblance (€9.99/£8.99: Tuesday)
NoReload Heroes (€9.99/£8.99)
Spheroids (€7.99/£6.99)
Final Light: The Prison (€6.99/£6.29: Friday)
Chicken Assasin: Reloaded (€6.99/£5.99)
Zaccaria Pinball (free to play: Monday)
Paladins: Champions of the Realm (free version: Wednesday)
Dawn of the Breakers (free to play)
Switch Archives
The King of Fighters '97 (€6.99/£6.29)
Omega Fighter (€6.99/£6.29)
Japan
Wolfenstein II: The New Colossus (¥8618)
Disgaea 1 Complete (¥7776)
Welcome to Hanawizawa (¥6980)
Library Party: A Good Librarian Is Like A Good Shepherd (¥6480)
Waku Waku Doubutsu Land (¥4800)
Mega Man X Legacy Collection (¥3300)
Mega Man X Legacy Collection 2 (¥3300)
Touhou Soujin Engi V ~ The Genius of Sappheiros (¥3000)
The Count Lucanor (¥1799)
Crossing Souls (¥1600)
Dimension Drive (¥1380)
Semblance (¥1095)
Piczle Lines DX: 500 More Puzzles (¥1000)
The King of Fighters '97 (¥823)
Omega Fighter (¥823)
Xeodrifter (¥500)
Fragment of Marine (¥500)
GREEN (¥300)
Paladins: Champions of the Realm (free version)