How close is the Switch to passing the Gamecube, and have "Nintendo-like profits" returned?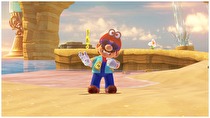 At the close of business today in Japan, Nintendo held a press conference to announce their financial results for fiscal 2017, which ended on March 31.
All monetary results quoted below are in yen, with a dollar figure based on current market rates in US$ ($1 = ¥109.26 at press time) for comparison.
Financial indicators
Income: ¥199.356bn ($1.824bn) net profit, on revenue of ¥1055.682bn ($9.661bn).. Operating income for the year was ¥177.577bn ($1.625bn).
Mobile revenue was ¥39.3bn ($359.614m). Digital sales were ¥60.8bn ($556m), approximately 24.2% of software sales.
Hardware shipments
Nintendo recorded shipments (to retail) of 15.05 million Switches for fiscal 2017, for a total of 17.79m shipped life to date.
The 3DS family shipped 6.4m systems for the fiscal year, reaching a life to date total of 72.53m.
Amiibo sales were 10.3m figures and 5.8m cards, while 5.28m Super Nintendo/Super Famicom Mini consoles were shipped.
Guidance for fiscal 2018
Nintendo expects a net profit of ¥230bn for the next fiscal year, and expects to ship 20m Switches and 4m 3DSes in their initial estimates.
Software milestones
Super Mario Odyssey: 10.41m shipped
The Legend of Zelda: Breath of the Wild: 8.48m on Switch, between 1.5m and 2.18m on Wii U
Mario Kart 8 Deluxe: 9.22m
Splatoon 2: 6.02m
Xenoblade Chronicles 2: 1.31m
Kirby Star Allies: 1.26m
Pokémon Ultra Sun / Ultra Moon: 7.51m
Other notable titles: Pokken Tournament 1.16m outside Japan, Fire Emblem Warriors over a million, 13 Switch games have shipped 1m+, Mario Kart 7 over 17m shipped
Release Schedule
Notable updated listings include Bayonetta 3 and Metroid Prime 4 as "TBA", while "Pokemon RPG for Nintendo Switch" remains "2018 or later".