I could post this in two parts and we still wouldn't have enough to fill in all of the related games.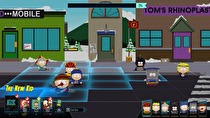 28 games in five days. 27 of them on the Switch. To quote Carmine, "great googly moogly".
Where to begin, then? We have South Park, for those who like terrible puns. For those who wish to skirt the law, there's Gal*Gun 2. The Switch gets its first KORG synthesizer, which normally retails for $150 so it seems like a bargain. Nindies Showcase hit Light Fall drops this week, Jotun is coming over from the Wii U, Saturday Morning RPG from the Vita among other systems, and we're getting the Naruto Shippuden Ultimate Ninja Storm trilogy. (Believe it!) The retro front comes up with Ghost Pilots from SNK. There's even a big demo in Pixeljunk Monsters 2, and if Death Road to Canada hadn't been delayed due to this week's senseless attacks in Toronto and Runbow wasn't held for polish it'd be even bigger.
Europe has a similar schedule, though the Naruto can be purchased separately (you get a discount for buying the lot). Japan is also bursting with the cutest Gundams ever seen, a couple of games familiar to NIS America watchers, and an anniversary port of the first Class of Heroes game.
North America
Switch Retail
South Park: The Fractured But Whole (US$59.99/C$79.99: Tuesday)
Gal*Gun 2 ($59.99/$69.99: Tuesday)
Firefighters: The Simulation ($39.99/$51.99: Tuesday)
Firefighters: Airport Fire Department ($39.99/$51.99: Tuesday)
Snow Moto Racing Freedom ($39.99/$49.99: Friday)
Aqua Moto Racing Utopia ($39.99/$49.99: Friday)
Hello Kitty Kruisers ($29.99/$39.99: Tuesday)
Switch eShop
Naruto Shippuden: Ultimate Ninja Storm Trilogy ($39.99/$54.99)
KORG Gadget ($48/$61.92)
Sky Rogue ($19.99/$24.99)
Super Saurio Fly ($15.95/$19.35: Saturday)
Light Fall ($14.99/$18.49)
Jotun: Valhalla Edition ($14.99/$16.99: Friday)
A Robot Named Fight ($12.99/$16.99)
Late Shift ($12.99/$15.99)
Saturday Morning RPG ($9.99/$12.99)
Glaive: Brick Breaker ($9.99/$12.99)
Goetia ($9.99/$11.99)
DragoDino ($9.99/$11.99: Friday)
Agatha Knife ($9.99/$)
Another Lost Phone: Laura's Story ($5.99/$7.99)
Where Are My Friends ($5.39/$6.95: Wednesday)
Sparkle Zero ($4.99/$5.99)
Save the Ninja Clan ($3.99/$5.15: Friday)
Bouncy Bob ($3.99/$4.99: Friday)
12 Orbits ($1.99/$2.49: Friday)
Wii U eShop
Unalive ($1.99/$2.49)
Switch Archives
Ghost Pilots ($7.99/$9.87)
Demos and Trials
Pixeljunk Monsters 2 (Friday)
The Bridge
Tumblestone
Sales and Price Drops
Highlights: Sega/Atlus 3DS titles including the 3D Classics Collection and 7th Dragon III Code: VfD, as well as Sonic Forces, are on sale until May 7. Spreadsheet
Europe
Switch Retail
South Park: The Fractured But Whole (€59.99/£49.99: Tuesday)
Firefighters: The Simulation (€39.99/£35.99: Tuesday)
Firefighters: Airport Fire Department (€39.99/£35.99: Tuesday)
Hello Kitty Kruisers (€24.99/£24.99)
Switch eShop
Naruto Shippuden: Ultimate Ninja Storm Trilogy (€49.99/£44.99: individual titles €19.99/£16.99)
KORG Gadget (€38.99/£35.09)
Sky Rogue (€16.99/£14.99)
Light Fall (€14.99/£11.39)
Jotun: Valhalla Edition (€14.99/£10.99: Friday)
A Robot Named Fight (€12.99/£12.99)
Late Shift (€12.99/£9.99)
Super Saurio Fly (€12.95/£11.59: Saturday)
Agatha Knife (€11.99/£9.59)
Glaive: Brick Breaker (€9.99/£8.99)
Goetia (€9.99/£8.99)
DragoDino (€9.99/£8.99: Friday)
Saturday Morning RPG (€7.99/£7.19)
Another Lost Phone: Laura's Story (€5.99/£5.39)
Where Are My Friends (€5.99/£5.39: Wednesday)
Sparkle Zero (€4.99/£4.49)
Save the Ninja Clan (€4.99/£4.49: Friday)
Bouncy Bob (€4.99/£4.49: Friday)
12 Orbits (€1.99/£1.75: Friday)
Skypeace (€0.99/£0.89)
Switch Archives
Ghost Pilots (€6.99/£6.29)
Demos and Trials
Pixeljunk Monsters 2 (Friday)
Japan
Naruto Shippuden: Ultimate Ninja Storm Trilogy (¥7344)
SD Gundam G Generation Genesis (¥7344)
Penny-Punching Princess (¥5143)
KORG Gadget (¥5000)
The Longest Five Minutes (¥3086)
Class of Heroes Anniversary Edition (¥2980)
Ayakashi Koi Gikyoku (¥2980)
Cube Creator X (¥2400)
Kanazawa Shogi -Level 300- (¥1980)
Light Fall (¥1600)
Max: The Curse of Brotherhood (¥1500)
Jotun: Valhalla Edition (¥1480)
Gureko Kara no Chousenjou! Keisan no Shiro to Obake-Tachi: Kakezan (¥1080)
Gureko Kara no Chousenjou! Keisan no Shiro to Obake-Tachi: Warizan (¥1080)
Vesta (¥1080)
Fujoki Tairan: 1553 Ryuu Koaiutsu (¥1000)
Buddy Collection if -Shukumei no Akai Ito- (¥864)
Ghost Pilots (¥823)
Woodle Tree Adventures Deluxe (¥600)
12 orbits (¥240)
Skypeace (¥100)