And ducking the busiest week of the year to date in the process.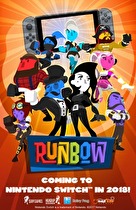 Runbow for Switch is slowing down a bit to get more polish.
Originally slated to release Tuesday (April 24), the game will be delayed for "a matter of weeks" according to physical publisher Headup Games. Both the retail and eShop versions will be affected, as well as a planned PlayStation 4 version.