Everybody's saying Labo this and Labo that, but nobody's saying Reloaded this or Manticore that.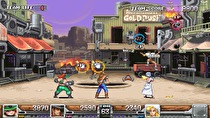 Today's release schedule is a bit of an oddity, as there's... not a whole lot. Whether this is due to Labo or not is up for debate, but there's already *23* Switch games confirmed for next week. Still, we'll take the breather while it's there. The non-cardboard big ones are Wild Guns Reloaded from Natsume, and Manticore: Galaxy on Fire from Deep Silver providing two different ways to fire projectiles at high velocities. Directors current (John) and emeritus (Neal) have you covered for that.
In terms of price, the big one is Neo Atlas 1469, a full-on strategy game with the tag to match. The retro front has a Wii U game that we first reported on in 2014, and the Archives release of Real Bout Fatal Fury Special.
Europe's lineup is largely identical, while Japan has a late release of Portal Knights, a couple of educational titles and... I guess another educational title.
North America
Switch eShop
Neo Atlas 1469 (US$49.99/C$64.99)
Wild Guns Reloaded ($29.99/$39.99: Tuesday)
Manticore: Galaxy on Fire ($19.99/$24.51)
Skee-Ball ($19.99/$24.51)
The Way Remastered ($14.99/$19.99: Friday)
Party Trivia ($9.99/$12.89: Tuesday)
BAFL – Brakes Are For Losers ($4.99/$6.49)
Ninja Stiker ($3.99/$5.59)
It's Spring Again ($1.79/$2.31)
Wii U eShop
Aqua Moto Racing Utopia ($19.99/$24.51)
New 3DS eShop
Cycle of Eternity: Space Anomaly ($4.99/$5.99)
Switch Archives
Real Bout Fatal Fury Special ($7.99/$9.87)
Demos and Trials
Stikbold: A Dodgeball Adventure Deluxe
Super One More Jump
Super Chariot
Sales and Price Drops
Highlights: Persona Q: Shadow of the Labyrinth is on sale until April 23. Spreadsheet
Europe
Switch eShop
Neo Atlas 1469 (€42.99/£37.99)
Wild Guns Reloaded (€29.99/£26.99: Tuesday)
Skee-Ball (€19.99/£17.99)
Manticore: Galaxy on Fire (€19.99/£17.99)
The Way Remastered (€14.99/£13.49: Friday)
Party Trivia (€7.99/£7.19)
BAFL – Brakes Are For Losers (€4.99/£4.49)
Ninja Stiker (€3.99/£3.59)
It's Spring Again (€1.99/£1.79)
Wii U eShop
Aqua Moto Racing Utopia (€19.99/£17.99)
New 3DS eShop
Dodge Club Pocket (€7.99/£7.19)
Switch Archives
Real Bout Fatal Fury Special (€6.99/£6.29)
Demos and Trials
Uno
Japan
Neo Atlas 1469 (¥6264)
Portal Knights (¥3564)
Manticore: Galaxy on Fire (¥2100)
Wild Guns Reloaded (¥1800)
Challenge from Greco! Castles of Calculations (2 games, ¥1080 ea)
Real Bout Fatal Fury Special (¥823)
Voxel Shot (¥800)
Ninja Striker (¥500)
Shin · Den Ai Ema Sakura (¥500)