Say "Hiiiiiii~" to this week's motley collection of releases.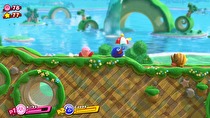 There's usually a "sucking up all the oxygen" joke to be made whenever a Nintendo first party retail game drops, and it's especially bad when it's a Kirby game. Star Allies, the first Kirby title to drop at the magic US$60 price since, uh, Kirby 64, is the big release of the week, though I'll be putting most of my time into tinyBuild's Cluster Truck. Profanity not included.
Other things of interest include Last Day of June, an adventure title based on a hit song, and 10tons's last missing Switch twin-stick shooter in the geek mashup Tesla vs Lovercraft. The Archives feature Aero Fighters 3, and now that Hamster has acquired the rights to the original that'll probably follow quickly.
It's a steady lineup for Europe, but Japan picks up Attack on Titan 2 - no relation to the 3DS "game" - Winning Post 2018, and the infamous Gal*Gun 2. It doesn't list any DLC, but that might wait for the Western release next month... and Gal*Gun has a sordid history with way, way overpriced DLC.
North America
Switch Retail
Kirby Star Allies (US$59.99/C$79.99: Friday)
Switch eShop
WorldNeverland - Elnea Kingdom ($29.99/$39.99)
Last Day Of June ($19.99/$24.51: Friday)
Gem Smashers ($19.99/$24.49)
The Long Reach ($14.99/$17.99)
Tesla vs Lovecraft ($14.99/$17.99: Friday)
Cluster Truck ($14.99/$18.06)
Coffin Dodgers ($12.99/$14.49: Tuesday)
Neonwall ($9.99/$11.61)
Danmaku Unlimited 3 ($9.99/$11.49: Tuesday)
Enchanting Mahjong Match ($4.99/$6.99)
Spiral Splatter ($4.99/$6.44: Tuesday)
Bingo ($4.99/$5.16)
Sparkle 3 Genesis ($4.99)
Switch Archives
Aero Fighters 3 ($7.99/$9.87)
Demos and Trials
Plantera Deluxe (Switch)
TorqueL: Physics Modified Edition (Switch)
Vostok Inc. (Switch)
Sales and Price Drops
Highlights: Enter the Gungeon (Switch) is 25% off until the 20th. Spreadsheet
Europe
Switch Retail
Kirby Star Allies (€59.99/£49.99: Friday)
Switch eShop
WorldNeverland - Elnea Kingdom (€29.99/£26.99)
Last Day Of June (€19.99/£17.99: Friday)
Cluster Truck (€14.99/£13.49)
The Long Reach (€14.99/£12.99)
Coffin Dodgers (€12.99/£9.99: Tuesday)
Neonwall (€9.99/£8.99)
Danmaku Unlimited 3 (€8.99/£8.09: Tuesday)
Enchanting Mahjong Match (€4.99/£4.99: Wednesday)
Spiral Splatter (€4.99/£4.49: Tuesday)
Bingo (€4.99/£4.49)
Sparkle 3 Genesis (€4.99/£4.49)
Demos and Trials
Toon War (€9.99/£8.99)
3DS eShop
Witch & Hero 3 (€3.99/£3.59)
Switch Archives
Aero Fighters 3 (€6.99/£6.29)
Japan
Attack on Titan 2 (¥8424)
Winning Post 8 2018 (¥8424)
Gal*Gun 2 (¥7538)
Kirby Star Allies (¥6458)
WorldNeverland – Elnea Kingdom (¥3996)
Earthlock (¥3000)
Guilt Battle Arena (¥999)
Aero Fighters 3 (¥823)
Enchanting Mahjong Match (¥500)
Party Bingo (¥500)