The game will be out soon, and a few friends will be joining Kirby.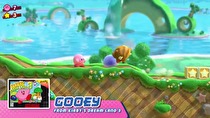 The first of the Switch games to be mentioned in the Nintendo Direct, Kirby Star Allies is coming out next week on March 16 and there is already a playable demo on the eShop.
The game can be played with one to four players and as you play through Dream Palaces the Dream Friends will be added and even King Dedede, Bandana Waddle Dee and Metanight will be available as playable characters.
In following weeks, more Dream Friends will be added in post-launch free updates. The first update on March 28 will have Rick & Kine & Coo from Kirby's Dreamland 2, Marx from Kirby Superstar, and Gooey from Kirby's Dreamland 3.