Grab yours now before ZeldaFan1986 is gone.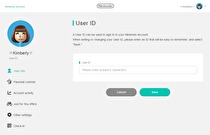 Nintendo quietly added User IDs to their account system over the weekend. Users can now log on to their Nintendo Accounts at any time to claim one.
IDs must be a minimum of six characters and can be edited after you've locked in your initial choice. Better hurry and choose yours now since, as with most online systems, duplicates will not be accepted.
The Nintendo Account system is already confusing as account logins are different from Nintendo Network IDs, and now User IDs have been added to the mix. Currently, IDs can be used as an alternative login for your Nintendo Account, and they have been added below your name and profile picture. This update is presumably tied to the Switch's imminent release on March 3 and could be closely linked to Nintendo's new online service.