Join the Famicast as we take a look at gaming life in Japan in February's special live episode!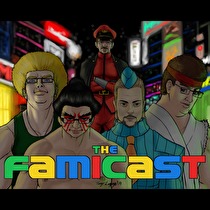 Subscribe via iTunes (Please rate and review, too!)
Yup. It's that time of month again. Live Famicast in your face!
For New Business, Danny steeps himself in N64 nostalgia with 1080 and Ocarina of Time (3D), Ty finds a surprise gem in Crypt of the Necrodancer, Sairus cleans his plate with Phoenix Wright and Pokken while James nears completion of Yoshi's Woolly World. I don't think anyone expected James to be the last man still playing Pokémon GO, but he (and his son) also check in on its recent updates!
It's just over a week until the Switch finally launches and the news continues to roll out. Between official announcements, leaks and stuff just showing up in stores, there's plenty to discuss. I am confident that the Famicast is the only podcast in the world giving their thoughts on the Zelda season pass, so be sure to check that out! Fire Emblem Heroes and Pokémon GO are also still in the spotlight with both receiving hefty updates. For more local Japan news, Sairus checks in with Pokken Tournament's recent arcade patch.
In a special Life in Japan segment, we all get wet and naked as we dive into the wild world of sentō and onsen, Japan's famous public bath houses. Being such a staple of Japanese life, these pop up in games in all formats quite frequently - can you think of any baths from games you've played? Let us know in the comments!
Finally, the big 100th episode of the Famicast is fast approaching, and we want you to get involved! Listen in at the end of the episode for information on how to get your voice heard on that special live episode coming soon!
This podcast was edited by Danny Bivens.
Music for this episode of The Famicast is used with permission from 8 Bit Weapon. You can purchase their music and shirts from their website 8bitweapon.com
Additional music for this episode of The Famicast is copyrighted to Nintendo, and is included under fair use protection.
The artwork for the show was designed by Tony Losoya, follow him on Twitter @Tony_Losoya