Based on a beary interesting Japanese 3DS title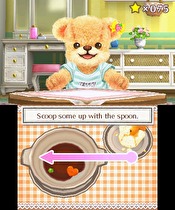 A long-hibernating 3DS title from Japan will be launching in Europe and Australia this summer/winter with new features.
The 2013 game Kuma Tomo has received an update to include amiibo support and will release in Europe on 1 July and Australia/New Zealand on 2 July as Teddy Together. No pricing has been given in Europe per Nintendo policy, but Nintendo Australia has confirmed the game will launch for AU$49.95 indicating a budget release.
The game stars a talking bear who is designed to help children develop interpersonal skills, and encourages parents to play with their children. Touch screen minigames to keep the bear fed are also included.