When Splatfests are held for pleasure, they're the ones I love best.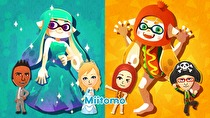 Following the success of the PAL/NA Splatfest last month, the next event will be world-spanning.
The Splatfest to be held on May 13-15 will be the same for all regions, with the competition lasting from 11 pm Eastern time on the 13th to 6 am Eastern on the 15th. The competition question is the question of the best type of party: a fancy dress ball (Callie) or a costume ball (Marie).
Like the last Splatfest, which was co-sponsored by Nickelodeon, this month's event is sponsored by Miitomo as part of the co-marketing with Splatoon.