"Is this a civil war?" "No, this is Patrick."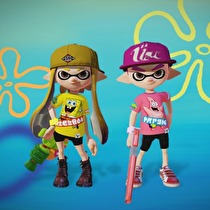 Results from the recent Splatfest competition, which included the first cross-region event:
NA/EU/AUS: Patrick 373, Spongebob 327 (43-57, 55-45) At Bluefin Depot, the popularity curse continues for Callie. Spongebob's big popularity advantage required a 49-51 in order to claim the win, but fell by ten points to the super starfish. Patrick players reported a lot of civil wars during the event despite the popularity disadvantage, which may be a feature of the new Splatfest matching rules.
Japan: Tuna Mayo 354, Red Salmon 346 (48-52, 51-49) At Port Mackerel, it was a narrow duel between two different flavors of onigiri (rice ball), but Callie's Tuna Mayo side took a squeaker. With a narrow popularity disadvantage, the Mayo team spread itself into a tight battle victory.