Apparently cosplay isn't *too* popular.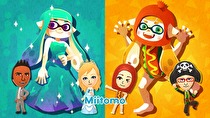 The first global Splatfest is in the books, and the Fancy party dazzled their way to victory.
Global: Fancy 358, Costume 342 (52-48, 51-49) At Flounder Heights, the sharp dressed squids and kids were the sharper shooters on the day following a narrow win in the popularity poll. Callie's worldwide win marks her first win in North American competition since January. Although narrow battle wins are par for the course in Japan - where the result has been 51-49 on three prior occasions since the 6x multiplier, this is a first for North America in the same time and just the second for Europe/Australia.