Season pass for 3DS, Linkle for Wii U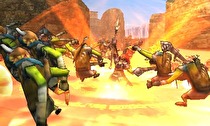 Hyrule Warriors Legends will have its own DLC, but Wii U owners will get the 3DS game's built in new fun.
The 3DS title releasing March 25 will have a season pass, much as the Wii U game did. No pricing was given for the pass, but the first pack will include a download of Wind Waker's Medli for both 3DS and Wii U.
Copies of the game will include transfer codes that will see all of Legends's original characters - Tetra, the King of Red Lions, Toon Link and Linkle - work with the Wii U title.