Registration to get on the train begins soon.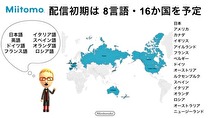 You'll be able to get hyped for Miitomo in a couple of weeks, but the app will be waiting a month.
During tonight's shareholder briefing, Nintendo confirmed that pre-registration for Miitomo is expected to open February 17, with a full rollout for both iOS and Android in mid-March. The application will launch in eight languages: Japanese, English, French, Spanish, German, Italian, Dutch and Russian.
The meeting also revealed that Nintendo intends to pursue free to start for more mobile titles than just Miitomo. In an interview with the Wall Street Journal (subscription required or search "Nintendo Offers Clues on Smartphone Game"), CEO Tatsumi Kimishima said the next game following Miitomo would not be a communication app, and would "adopt one of our characters that fans are very familiar with".