Also, a slew of Wii U and 3DS indie games are on the way in the coming months.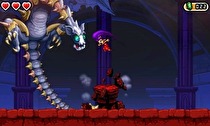 At long last, Shantae and the Pirate's Curse is coming to 3DS eShop on October 23. The Wii U version will be coming later this winter.
A variety of other Wii U and 3DS indie titles are also on their way this year, including Frima's Wii U physics-based platformer Chariot, Double Fine's Wii U RPG Costume Quest 2, TOO DX's Wii U local multiplayer game Sportsball, and Choice Provisions' 3DS arcade-styled Woah Dave!
All of these games and more will be playable at Indiecade 2014 this weekend, where Nintendo will also host a panel on indie development on Nintendo systems featuring developers from Yacht Club Games, Over the Moon Games, and KnapNok Games. See below for the full list of playable games:
Affordable Space Adventures (Wii U, KnapNok Games, Q1 2015)
The Fall (Wii U, Over the Moon Games, Available Now)
Costume Quest 2 (Wii U, Double Fine, October)
Stealth Inc. 2 (Wii U, Curve Digital, October)
Swords & Soldiers II (Wii U, Ronimo Games, Winter)
Runbow (Wii U, 13AM Games, 2015)
Sportsball (Wii U, TOO DX, November)
Chariot (Wii U, Frima, Q4 2014)
Beatbuddy (Wii U, Threaks, TBA)
Woah Dave! (3DS, Choice Provisions, Fall)
Xeodrifter (3DS, Renegade Kid, 2014)
Shovel Knight (Wii U/3DS, Yacht Club Games, Available Now)
Shantae and the Pirate's Curse (Wii U/3DS, WayForward, October 23 on 3DS; Winter on Wii U)