A premature announcement?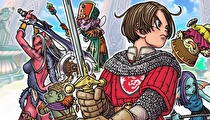 The next Dragon Quest from Square Enix is in development, it seems.
Series creator Yujii Horii made the announcement at the Nico Nico Super Conference 3 in Chiba, Japan. However, Horii's comment raised looks from Dragon Quest X's producer Yosuke Saito and chief planner Anzai Takashi as if it shouldn't have been said.
No title was announced, but Dragon Quest XI would be a fair assumption to follow the "next" game's predecessor, Dragon Quest X.