Information from the company's financial reports gives fans a glimmer of hope.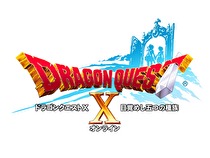 Dragon Quest X may yet see release in territories outside of Japan, according to information from Square Enix's financial results briefing slides.
In a slide titled "Expansion of Overseas Business, primarily in Asia," the company notes regarding Dragon Quest X that "overseas expansion is under consideration." There are several games listed on the page, and all are specifically denoted as intended for Asian countries with the exception of Dragon Quest X, whose intended expansion plans are left unidentified. While this is little more than a ray of hope for fans of the series waiting to have this latest franchise entry localized for their territories, it remains a positive sign that all is not yet lost.
Dragon Quest X was first released for Wii in August 2012 and has since seen ports to Wii U, PC, and even Android platforms in Japan. Meanwhile, Square Enix and Nintendo have been mum regarding any sort of release for the title in Western territories despite the series' long history and highly-regarded legacy with fans across the globe. The game's nature as a massively multiplayer online RPG makes it a unique and progressive entry in the franchise, but also has been seen as a high hurdle in the way of a potential localization.
Square Enix reported generally positive financial results in its briefing, including a return to profitability with a total net income of 6.5 billion yen (about $65 million). The company has had favorable results with the relaunch of its flagship MMO, Final Fantasy XIV: A Realm Reborn. These factors might have some bearing on the potential for a Dragon Quest X expansion.
Western Dragon Quest fans have been left out in the cold over the past few years on portable platforms too, as a 3DS remake of Dragon Quest VII saw an early 2013 release in Japan, but still remains unannounced for Western territories. Recently Dragon Quest creator Yuji Horii reportedly let slip the fact that the "next" Dragon Quest is in development, so perhaps fans will have better luck with the next installment.