Get revved up, and feast your eyes.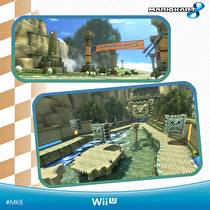 Screenshots of new Mario Kart 8 tracks have been posted on the Wii U UK Facebook page over the past week. The photos display six new courses, with most having a couple different views.
The courses include:
Sweet Sweet Canyon
Mario Circuit
Thwomp Ruins
Toad Harbour (Harbor)
Twisted Mansion
Cloudtop Cruise
Check out the rest of the pictures in the gallery below.
Mario Kart 8 will release on May 29 in Japan, May 30 in North America and Europe, and May 31 in Australia.