Make sure you supervise your children; those blue shells come out of nowhere.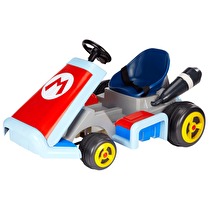 Toymaker Jakks Pacific, through a partnership with Nintendo, will be adding the new "Super Mario Kart Ride-On" to its collection of 6V ride-ons, in stores on March 7. For the first time ever, kids will actually get the chance to take a spin in Mario's ride.
Based on Mario's kart from the Nintendo 3DS title Mario Kart 7, the ride-on is equipped with a range of sound effects from the game as well as on-road and off-road tires that can be switched out.
"It's an exciting little runner that we expect to sit competitively within other 6V ride-ons and with it being so relevant to the Nintendo Mario Kart, it should do very well," said Jakks Pacific's Ken Goodison.
Mario's kart is currently up for pre-order from Toys "R" Us for $200 USD and is anticipated to hit the UK by fall/winter of this year.