Yet another positive changed in the upcoming Pokémon games.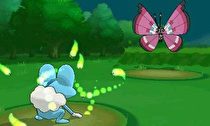 After capturing a Pokémon in X & Y, the Pokémon the trainer went into battle with will now receive experience points.
In past iterations of the franchise a player's Pokémon would not gain any experience after capturing a Pokémon. This is yet another positive, although minor, change to the existing formula.
This information comes from a hands on preview of the games we had last Tuesday. Pokémon X and Y will be released globally on October 12.