Did someone say Earthbound?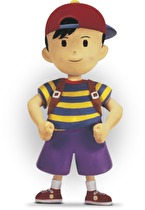 Holy cow, what a week! If you can't find something to love in this pile of goodness then just hand over your Nintendo Fun Club card right now. Earthbound, Shantae, and the final Guild02 Collection game have all arrived at once, and I suspect the wallets of some Nintendo fans are cowering in fear. If you haven't done so already, now is a great time to take advantage of the $30 Shin Megami Tensei IV promotion and snag yourself some great downloadable titles!
Wii U eShop Sales
Puddle - $4.49 until 9AM PT, August 1
Wii U eShop Retail Games
3DS eShop Games
Attack of the Friday Monsters! A Tokyo Tale - $7.99
The final game in the Guild02 Collection is about the most Japanese of subjects: giant monsters! From what we've seen, this is shaping up to be one of the weirder titles in the collection. You'll spend your time collecting monster cards and battling your friends. Giant monsters and card battles, what's not to love?
I know what you're thinking: surely this isn't what it sounds like. Well, you're wrong, it's exactly what it sounds like. Get ready to smack some zombies in the face with a bowling ball shot from a cannon! You'd have to be pretty cold-hearted to not find some joy in that.
I love it when a game title perfectly demonstrates what the game is about. Go rescue some robots in 3D across 120 levels, and try not to get killed along the way!
3DS Virtual Console
While this cult classic may be overshadowed by a certain other cult classic this week, it definitely deserves some attention. In Shantae's first outing, you'll be battling your way through 50 levels with all the hair-whipping and lady-pirates you could ever dream of.
Wii U Virtual Console
Stop rubbing your eyes in disbelief. I said stop it. It finally happened, Earthbound has finally made its way to Western shores once again on the Wii U! I'm not sure why I'm even still writing this, since you've undoubtedly thrown your laptop to the ground and sprinted to your Wii U to download it. Don't forget to check out the guide, now available for free online.
3DS eShop Demos
The Denpa Men 2: Beyond the Waves