Ubisoft confirmed the July 30 release date; developer Pwnee says it's not July 30, but close to that date.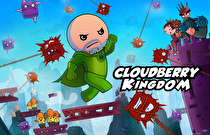 UPDATE: Developer Pwnee Studios said on Twitter that the July 30 Wii U release date for Cloudberry Kingdom was "not quite accurate, but not far off." The developer will be making the official announcement soon.
The likely situation could be that Cloudberry Kingdom is coming out on August 1, since it is a Thursday, the usual day that Nintendo download games come out.
The original story, based off of a comment from a Ubisoft representative earlier today, is below:
Cloudberry Kingdom will be coming to Wii U on July 30, according to a Ubisoft representative.
The game, developed by Pwnee Studios, was funded on Kickstarter in May of last year and features procedurally generated levels that adapt to the player's skill level. It will be releasing on multiple platforms and will be published by Ubisoft.
You can check out our impressions of the game from E3 here.