At E3, NWR spoke with Pwnee's TJ Lutz to discuss their upcoming Wii U platformer.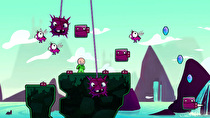 On the E3 show floor, RFN's Jonathan Metts had the chance to chat about Cloudberry Kingdom with TJ Lutz, Vice President of Pwnee Studios. By watching the video below, you can listen to their conversation while gazing at off-screen gameplay footage from the E3 demo. Also below, you can watch the introduction video to the game's Story Mode.
Note: You may have already heard this interview when it appeared on one the E3 RFN podcasts.