With no official reply from Warner Bros., things don't seem positive for Wii U players.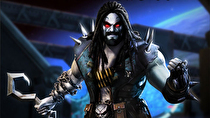 UPDATE: A Warner Bros. representative told us that they can only confirm "that the DLC will hit 360 and PS3 today." They did not directly address the Wii U DLC situation. The original story is below:
The possibility of downloadable content for Injustice: Gods Among Us on Wii U appears to be non-existent right now, as the game's first major piece of DLC is out this week on other platforms with no sign or official word of a release on Wii U.
The only word we've received from our repeated attempts at contacting Warner Bros. representatives is this message from shortly before the game's April 16 launch: "We don't have any more specific details to release about the Wii U version that haven't already been made public. If we do have new details to discuss, we'll release them publicly."
DLC for the Wii U version has been previously confirmed by Nintendo during a Nintendo Direct earlier in the year, and also by the fact that the box for the games lists the ability to download additional content on the back. To date, Warner Bros. or developer NetherRealm Studios have not commented on the issue.
The Wii U version already missed out on all degrees of bonus content, ranging from pre-order bonuses to downloadable costumes available in the iOS game. While other versions had a Season Pass available for purchase, the Wii U version did not. Additionally, the Nintendo version is missing some key online features, such as friend matches, that the other systems have.
The playable character Lobo was this week's addition, while Batgirl was confirmed to be the next DLC character. The other two rumored characters that the Wii U version might be missing out on are Superman villain General Zod and Mortal Kombat staple Scorpion.