Want Lobo now? Too bad.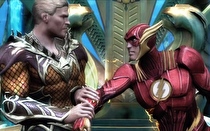 The downloadable content for Injustice: Gods Among Us will hopefully be coming to Wii U this summer, according to the game's Twitter feed.
After not getting any part of the game's pre-order and Season Pass content, Warner Bros. was quiet as to whether or not Wii U would receive DLC. The first downloadable character, Lobo, is available on Xbox 360 and PlayStation 3 as of this week. Four characters are planned, with Batgirl confirmed to be the second character. General Zod and Scorpion are rumored to be the last two characters.
Warner Bros. offered no word as to when the discussed Wii U patch will be available, which is slated to add in Friend Matches and more to the Nintendo version of the game.