Gamers who bring their 3DS to the TGS with the demo on it are also in for a treat.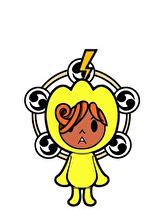 A demo for Denpa Ningen no RPG 2 is coming to the Nintendo 3DS eShop on September 19. The demo will span very early parts of the upcoming game as well as make use of StreetPass. The game will feature more dungeons, fishing (similar to what is found in Animal Crossing), sea travel and more.
Denpa Ningen no RPG 2 will also be at the Tokyo Game Show later this week. Players that try the demo out on the show floor will receive an original Denpa Ningen no RPG 2 sticker which will be available while supplies last. In addition, users who bring their 3DS with a downloaded copy of the demo will be able to receive a special playable Denpa Ningen via QR code to their handheld.
Denpa Ningen no RPG 2 launches in Japan on September 26 for 1,000 yen. The original Denpa Ningen no RPG, titled The Denpa Men: They Came By Wave in North America, is scheduled to release on September 27 for $6.99. For more information about the original, feel free to read my impressions.