Even the purple Pikmin could not carry the weight of the Wii U launch.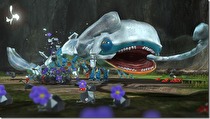 Four of 2013's big Wii U releases have been delayed.
Pikmin 3 along with The Wonderful 101, Game & Wario, and Wii Fit U were all originally scheduled to be a part of Nintendo's Wii U launch window, but now have been delayed with the release date being "first half of the year."
According to Nintendo, more launch information will become available at a later date.