A Sonic & All-Stars Racing Transformed demo is up, too.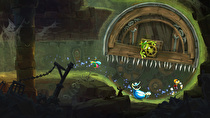 The promised Rayman Legends demo is now available on the Wii U eShop in North America. It contains three levels: Teensies in Trouble, Toad Story, and Castle Rock. Additionally, a demo for Sega's Sonic & All-Stars Racing Transformed is up on the eShop as well at a size of 1172 MB with 15 allowed plays.
The Rayman Legends demo clocks in at 575 MB and is limited to 30 plays. The only difference between this demo and the in-store demo is the new Toad Story level. Toad Story is primarily focused on gliding and using air currents to save creatures and avoid enemies.
Teensies in Trouble is a level that showcases the touch screen controls, letting players control Murfy who helps an AI player through various obstacles. Castle Rock is a music-themed level featuring a humorous rendition of "Black Betty" in the background.
Rayman Legends is due out on February 26 in North America.