Roll a die, tend a garden, and save the world's pizza. Just another ordinary Download's update.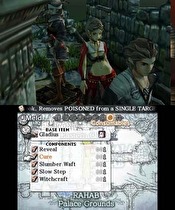 Another busy week in Nintendo downloads. For the 3DS, there's the tabletop RPG Crimson Shroud, and Gardenscape, a gardening sim/hidden object game. As for DSiWare, Zombie Skape has you ollie and 180-face-flip over the undead, Chuck E. Cheese's Alien Defense Force provides you with enough water balloons to take down a pizza-stealing horde of aliens, and Rytmik World Music allows you to tap into your inner Moby (or whoever is cool nowadays) and make music of your very own. Hopefully you didn't count the Wii Virtual Console out, because it's fighting back with Real Bout Fatal Fury. 3DS also gets a blast from the past in the shape of Ninja Gaiden for the eShop Virtual Console. This week's update doesn't stop at just games—both the Wii U and the 3DS get some demos as well! Keep reading for the full listing.
eShop Retail Releases and Demos:
Wii U Retail Releases
Batman: Arkham City Armored Edition
Wii U Demos
Rayman Legends
Sonic & All-Stars Racing Transformed
3DS Retail Releases
Adventure Time: Hey Ice King! Why'd you steal our garbage?!!
3DS Demos
Art of Balance TOUCH!
Adventure Time: Hey Ice King! Why'd you steal our garbage?!!
3DS eShop Games:
As a "chaser" in Crimson Shroud's world, you're quite adept at finding things. But, being a video game and all, you're not looking for that GamePad stylus you've misplaced for the eighth time. Your specialty is humans, and your profession has now led you to the titular Crimson Shroud, otherwise known as the Original Gift. Helmed by the acclaimed Yasumi Matsuno (of Ogre Battle fame), Shroud is billed as a digital take on the tabletop RPG, with battles playing out on the roll of a die. Play smart, and think ahead; the dice don't always play nice. You can read Guillaume's review here.
Your grandfather has passed, and he's left behind some startling truths. For starters, he must have always hated you, on account of him placing his junky garden in your care. To top it off, Poppy was a terrible hoarder. There's stuff everywhere. As a blend of the hidden object and management genres, Gardenscapes has you searching through Grandpa's stuff for loot to sell, then using those funds to rebuild your garden. Time to show the old guy how real men tend a garden.
3DS Virtual Console:
You better not use Restore Points in this b, brother. At least don't admit to it. You know the crap you get over playing on Easy? You're going to get it tenfold on this one. People swear by Ninja Gaiden's difficulty. They bathe in your tears. In it, Ryu Hayabusa battles to save the earth from the deeds of Jaquio, a jerk that intends to take over the world with the help of an ancient demon. Take control of Ryu and be prepared to die. A lot.
DSiWare Games:
Chuck E. Cheese's Alien Defense Force - $4.99/500 Points

When the world's pizza is at stolen by aliens, you're not quite sure who you can trust. How could the government let this happen? Why didn't the pizza chains fight back? Didn't the grocery stores find it odd that aliens were buying up all their pizza ingredients, which would prevent us from building future pizzas? When there's nowhere left to turn, you might find yourself trying to unwind. You'll find yourself in Chuck E. Cheese, and you will have found your answer. Control Chuck E. Cheese as you throw water balloons at passing targets, all in an attempt to get back that pizza, and end the injustice.
Zombie Skape - $1.99/200 Points

When facing off against a horde of zombies, it seems natural to hop in a car and spin some donuts in their undead faces. Show them what living is all about. But what about our world's youth? They don't have their driver's licenses yet. Were they to get behind the wheel, they'd be breaking the law. And what worse way to begin society anew than to immediately set a poor precedent by committing a crime? Zombie Skape has the answer though; skateboards. Stand atop your deck and shove your way to safety, picking up ladies on the way. Zombies and other horrible beasts line the roads and highways, so do your best to avoid them, and look hella cool doing it, bro.
Rytmik World Music - $7.99/800 Points

Do you ever spit on the radio in disgust? Talk condescendingly to those who profess to be musicians? Well here's your chance to blow your jams in their face. Rytmik World Music is a "pocket music station", allowing owners to create music using over 180 sound samples including synth drums, ethnic drums, and percussions. It's time to make yourself a star.
Wii Virtual Console:
Real Bout Fatal Fury - 900 Points
You may have given up on the Wii Virtual Console, but SNK fighters have certainly not! The fifth entry in the Real Bout series, Real Bout Fatal Fury brings along some new features; an independent sway button, new Combination Attack system, and ring outs. If you know who or what a Duck King is, I'm certain you're very interested in what this game has to offer.