Get all your hardcore Zelda knowledge in January 2013.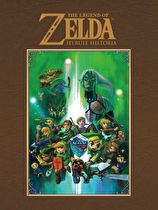 Hyrule Historia, the official history of the Zelda universe, is coming to North America, UK, Australia, and parts of Europe in the new year courtesy of Dark Horse Comics, as Diamond Book Distributors listed the book for a January 29, 2013 release for $34.99.
The book, originally released in Japan in late 2011, contains the official Zelda timeline, as well as behind-the-scenes features, unreleased pages of manga, and concept and official artwork for the series. This version will be bigger than the original Japanese version.
According to Dark Horse Comics, Nintendo proposed the idea of localizing the book to them, as the two companies have been discussing various projects for years.
More information on the book can be seen at Diamond Book's website.