Hardcore Zelda fans will want one of the 4,000 copies produced.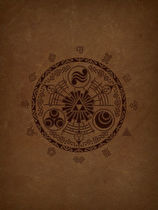 Dark Horse will be releasing a Limited Edition translated version of Hyrule Historia. The Limited Edition version of the book includes a faux-leather hardcover with a debossed Gate of Time logo on the front, and will have gold gilded pages. This version of Hyrule Historia will be limited to 4,000 pieces and costs $69.99.
Hyrule Historia, which released in Japan in 2011, is a Zelda book that is crammed full of information and artwork from the Zelda series. It even contains the still highly debated official Zelda series timeline.
Dark Horse is also releasing the standard version of Hyrule Historia for $34.99. Both versions of the book are due out by February 2013.
Image courtesy of Dark Horse.