The 3DS XL just got bigger.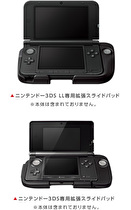 Nintendo has updated their Japanese website with a new image of what the Nintendo 3DS XL's Circle Pad Pro will look like on the new system.
The device, just like the original Circle Pad Pro for the launch version of the 3DS, will add a second Circle Pad to the handheld to allow for additional control schemes in games that require extra precision.
There currently are no details regarding price or release date of the new accessory, but a Japanese release was initially slated for 2012.