One of the developers described a few ideas of how to differentiate the Wii U version.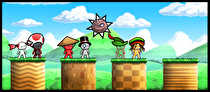 The Wii U version of so-called hardest platformer ever, Cloudberry Kingdom, may include features not included in other versions of the game, according to a post by one of the developers.
The ideas largely revolve around the touch screen in the Wii U controller, including the ability to draw your own character or a hat for it, as well as flags to be used in the game's competitive mode. In a follow-up post, he also talked about including a way to design blocks and customize their movement.
The discussion is ongoing in a thread over on Reddit, so if you have an opinion on the matter you can go let the game's creators know. The developer made clear in the posts that these were just ideas they were working with, and not confirmation that they would actually appear in-game.
Cloudberry Kingdom's Kickstarter is still in progress, and will ontinue through May 26. As of this posting, it is just under $1,000 away from reaching its goal.