Folks who donate to Pwnee Studios' Cloudberry Kingdom Kickstarter will be in line to get a copy of the game when it comes to Wii U.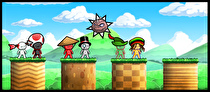 If you donate to New York-based developer Pwnee Studios' Kickstarter for Cloudberry Kingdom, you could get the chance to shore up the acquisition of your first Wii U game.
Cloudberry Kingdom is a 2D side-scrolling platformer in which levels are randomly generated and the difficulty is altered by an AI that measures your performance in the game and generate new levels accordingly. The game will have a bevy of features, including an arcade mode, leaderboards, a custom level builder, and different characters with unique abilities.
The Kickstarter page features artwork that gives an idea of what the final game may be like. As for proposed platforms, Pwnee Studios is aiming for a release on the Wii U and Steam as a downloadable title. When the page was originally created, it mentioned that supporters of the project would receive a copy of the game via Steam; Nintendo has since given them permission to also give away the game on Wii U once it is completed.
The official statement from Pwnee Studios regarding the offer is as follows:
"At the time we created the page, we only had permission from Steam to give away copies of the game. As of now, we have received permission from Nintendo to do the same thing! (Unfortunately we are unable to edit the text in the rewards explanations to reflect our change) But fear not! You can get yourself a copy of the Wii U game by donating to anything that mentions the Steam version!"
At the time of writing, Pwnee Studios had raised $14,931 out of a proposed $20,000 with only four days left to go in the campaign. The beta version of the game has been made available on Steam for those who donate to the project, as presented on a post here. The page does not mention any expected release date for any of the proposed platforms.