For the first time since 2011, there will be simultaneous weeks with new Game Boy games on the eShop.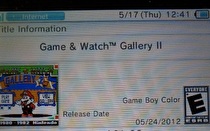 Game & Watch Gallery II is coming to the 3DS Virtual Console in North America next week, according to the eShop.
The game, initially released in the region on the Game Boy Color in 1998, came out in Europe on May 3. It came out in Japan on March 21, though it was a Game Boy release in that region.
Kirby's Block Ball came out this week on the North American 3DS Virtual Console. Before that, the last release was in March.