Publisher Nicalis drops the news over Twitter.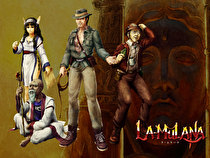 The release of La-Mulana, an independent 2D-platform game, in North America and Europe has been canceled, publisher Nicalis confirmed over Twitter recently.
The game was originally released in Japan in 2005 as an independent Windows-based game. Later, it was ported to the Japanese WiiWare service on June 21, 2011. Originally, Nicalis had signed on to release the game in Europe and North America as the publisher. Months without word on the game had gone by, and it was now confirmed that the release was canceled.
The official word from Nicalis's Twitter is as follows:
Regarding La-Mulana, we have chosen to cancel publishing in North America and Europe for WiiWare. -- Nicalis, Inc. (@nicalis)
La-Mulana features 2D gameplay reminiscent of Metroid and the later versions of the Castlevania games. It features a lead explorer character that uses a whip in order to defeat the enemies that live within the tomb of La-Mulana.