The anticipated WiiWare title might have a new publisher in Europe.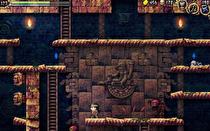 The WiiWare title La-Mulana may still be coming to Europe. According to NintendoLife, the title appeared on the European ratings board PEGI with a rating of 12 for a second time, and was subsequently removed. Yet, this time the publisher was listed as the Spanish publisher EnjoyUp!, instead of Nicalis. NintendoLife contacted the EnjoyUp!, only to receive the reply "no comment."
Frequent readers may recall that La-Mulana was originally planned to be released in North America and Europe by Nicalis; however, in May the partnership between Nigoro and Nicalis ended, due to Nicalis' fear that the game would not pass the approval process. Nevertheless, the game was released on WiiWare in Japan on June 21, 2011.