Technically it's after the recent spring 2012 date, but only by a week.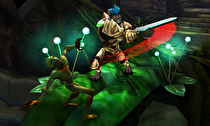 Heroes of Ruin, n-Space's ambitious 3DS dungeon crawler, is slated to hit stores on June 26 in North America, according to publisher Square Enix.
The game will be playable at PAX East in Boston this weekend. You can read all about Heroes of Ruin in our various previews and impressions. It features online co-op for four players, tons of loot, voice chat, and StreetPass and SpotPass functionality.