Square Enix announced their E3 lineup and stealthily delayed n-Space's upcoming game.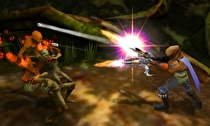 Heroes of Ruin, from Square Enix and n-Space, is getting pushed back by three weeks to July 17, according to a press release from Square Enix about E3 2012.
The game, which is a Diablo-esque game featuring four-player co-op locally and online with voice chat, was originally slated for a June 26 release. When it was first unveiled, it was set for an early 2012 release. The delay only applies to the North American date. The June 15 European launch remains unchanged.
You can read all about Heroes of Ruin in our various bits of coverage. The game will be playable at E3 2012.