Square Enix and n-Space are prepping up an epic 3DS exclusive for 2012.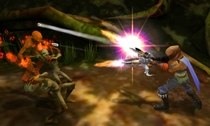 Square Enix officially announced that they have partnered with n-Space for a new 3DS game called Heroes of Ruin, set to be released in 2012. The game was revealed by n-Space earlier this week.
In Heroes of Ruin, up to four players can participate in exploring dungeons, raiding treasures and defeating enemies, both offline and on. Players who find themselves alone during gameplay will be able to use special social networking features to locate friends and other players online.
In addition to the multiplayer mode, Heroes of Ruin will be able to use the 3DS's SpotPass feature to download new quests, items and maps.
A teaser site was also made live with the announcement, which includes the first teaser trailer.