Also, Mario Tennis and Luigi's Mansion 2 are totally game for 2012.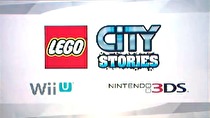 Lego City, which was revealed for Wii U and 3DS at E3 2011 under the name Lego City Stories, is coming to 3DS in 2012, according to Nintendo's recent Financial Results Briefing.
Developed by Lego stalwarts Travellers Tales, Lego City is also being licensed by Nintendo "to be sold as a Nintendo product overseas."
The briefing also listed Mario Tennis and Luigi's Mansion 2 as 2012 releases, while Animal Crossing and Paper Mario were listed as "TBD." All of these games were listed with the same time frames last summer.